Top 3 Diving Spots in Australia
28.11.18
Diving is an amazing activity, seeing as how it gives you an opportunity to go on an adventure in a completely new environment and set of circumstances. Under the sea, you'll be devoid of most of your senses, your reality will twist and the world you'll encounter will be beyond your wildest dreams and imagination. Everything seems calmer down there and more serene, which is what makes this experience even more unique and compelling. Still, the diving experience that you receive greatly depends on the location, so for all those who intend to go diving in a land Down Under, here are top three diving spots in the whole of Australia.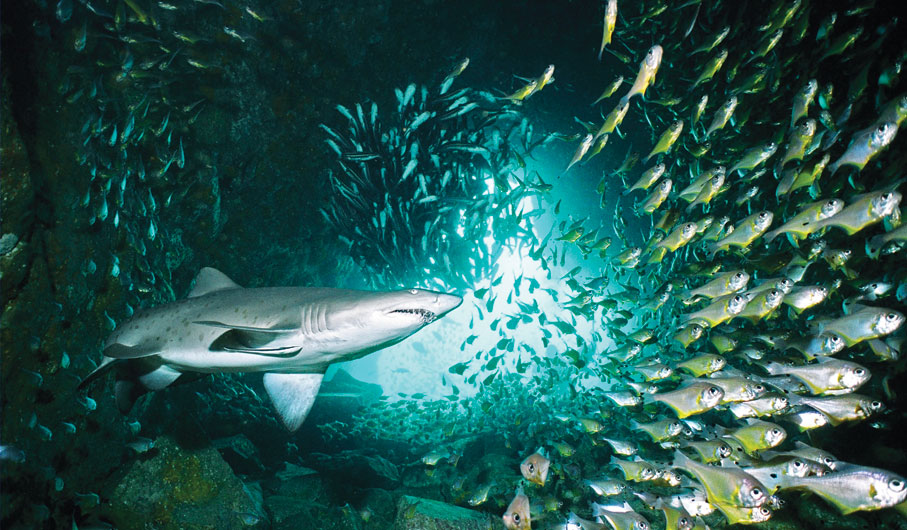 Fish Rock Cave
Previously, we talked about scuba diving and the way in which the location can alter the experience. Well, nowhere is this as transparent as in cave diving. This particular dive site has a 125-meter long cave. Even more importantly, this is the most impressive ocean cave in the whole of Australia.
Due to the fact that it's the home to the
grey nurse shark
(an incredibly rare, endangered species), it's also a great spot for shark watching. This experience alone is a once-upon-a-lifetime opportunity that you can't afford to miss out on. Those interested in ocean life should visit between April and November, due to the fact that this is the time when famous Humpback whales start migrating.
Other than this, it's also worth mentioning that South West Rock (a town nearby) is a place where that has so much to offer to tourists, even those who aren't interested in diving. In other words, it's a place where you can go in order to make a holistic trip.
The wreckage of SS Yongala
Even though diving is never a generic experience, there are some people who are interested in seeing sights as uncommon and extraordinary as possible. For them, nothing can beat the wreckage of SS Yongala. In fact, ask any passionate diver will tell you that it's their dream to visit this place at least once in their lifetime.
Due to the fact that the ship sank about 89 kilometers offshore of Townsville, you'll have to find a diving tour or a ship. It also goes without saying that you'll have to equip yourself with
quality scuba diving gear
, and in this day and age, high-end gear can be ordered online for a more than reasonable price. Since this ship sank in 1911 just one year prior to Titanic, the ocean had more than enough time to claim it for itself and it now serves as a semi-artificial reef. 
Rye Pier
After an NSW and a Queensland diving location, it was about time that we've included a place where you can dive in Victoria. With that in mind, the Rye Pier is definitely a no-brainer. One more thing that seems quite compelling about this particular diving spot lies in the fact that the place is fairly shallow, as well as rich with temperate marine life. In other words, this is an ideal place for you to take your first diving steps. The only potential problem lies in the fact that this might raise your bar too high for all your subsequent diving experiences. Still, if falling in love with scuba is one of your goals, then going to a Rye Pier is a no-brainer.
As for the perfect time to go diving, while this is a solid idea all-year-round, going in Autumn, will provide you with a unique chance to watch the gathering of
thousands of spider crabs
. Pot-bellied seahorses are also indigenous to this area, making this into one more thing worth seeing.
Conclusion
All three of these locations are definitely worth visiting and, if you decide to commit to it, it's even possible to go for a single tour to encompass them all. Nonetheless, there's nothing wrong with postponing this a bit and giving yourself an opportunity to focus entirely on one diving experience. In this particular case, dragging this onto several years might be a much better idea.