jaigarh fort
23.10.17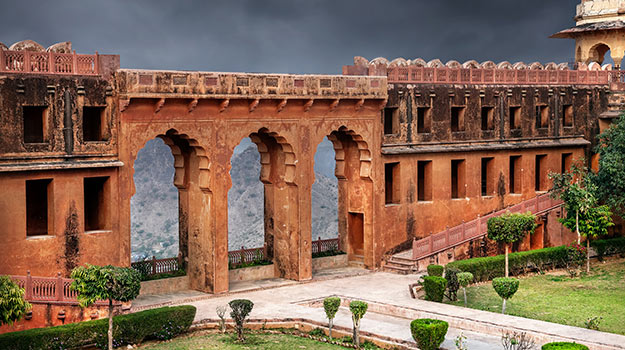 The city of Royals, Jaipur is quite famous for its regal lifestyle. The huge forts and palaces allure travellers from all over the world. Famous as Pink City, Jaipur is boasted with numerous of tourist historical sites. One such fort in Jaipur that attracts numbers of travellers is Jaigarh Fort. Located on the high hill side this fort is famous for its cannon and glorious structure. Here we are going to discuss about this for in Detail. Information might come handy for you during your Jaipur Tourism.
1. Jaigarh Fort an Introduction
Located on Cheel Ka Teela, the Jaigarh Fort is one of the major forts in Jaipur. It is located next to the magnificent Amber Fort. Travellers who visit Amber Fort also visit to the Jaigarh Fort. Built in 1726 by Maharja Sawai Jai Singh II, Jaigarh Fort overlooks the charming Maota Lake which was once the major source of water to both the forts. The main aim for constructing this fort was to protect the Fort of Amber from Invaders. Thus one can find huge cannon in here which is featuring as the largest cannon in the world. These cannon are the major attraction under your Rajasthan tour package.
2. Brief History of Jaigarh Fort
The present is the mirror of the past happenings, and the past of the Jaipur history can be experienced in the present day architectures. Earlier known as Dhundhar, Amber was the chosen place where structure was fortified as the defensive building for the Amber Fort. During the Mughal reign, at Shah Jahan time, Jaigarh Fort has become world's most efficient cannon foundries due to the presence of iron ore mines. After the war of succession between Dara Shikoh and Aurangzeb, the fort was taken over by Aurangzeb. Later another Mughal Emperor Muhammad Shah handed over the fort to Jai Singh II who modeled world's largest cannon "Jaivana Cannon" inside the Jaigarh Fort.
3. Architecture of Jaigarh Fort
The structure is also having court rooms and hall that are compact with the screened windows. The watch tower offers a spectacular view of the landscape which is compacting with Aram Mandir in the northern side of the complex, a triple arched entrance named The Awani Darwaza. Near the fort there is an artificial Sagar Lake from where water used to be transported to the fort.
What more enhances your Jaipur Tour Package is the presence of two temples; one is Ram Harihar temple and Kal Bhairav Temple of 10th and 12th century respectively.